The 25 Minute Meeting: Half the Time, Double the Impact
Unabridged Audiobook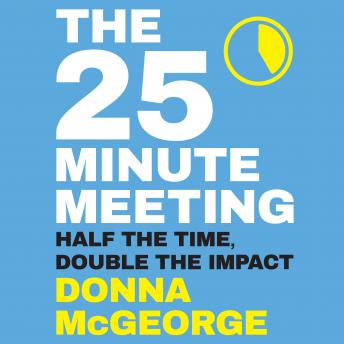 Duration:
2 hours 33 minutes
Summary:
Sharpen your focus and tighten your time frames to get more done in less time

The 25 Minute Meeting goes beyond 'cut to the chase' and shows you how to take back your work day with smarter planning and more productive action. Meetings have become a de facto way of working, and as they pile up and stretch to interminable lengths, they eat up our days and sink productivity-if they are poorly planned and run. Done well, meetings are short, sharp, productive affairs that provide critical time and space for the interactions that drive business forward. This book shows you how to effectively and efficiently recover your time with a roadmap to the 25-minute meeting.

A clear framework walks you through the entire meeting process, with emphasis on timing and focus, with illustrative case studies showing how real-world meetings have transformed from painful to purposeful with a few simple changes. From purging the invite list, to shutting down irrelevant tangents and facilitating more efficient communication, this book can help you reclaim your lost hours without sacrificing collaboration.
Genres: