The 30-Day Heartbreak Cure: Getting Over Him and Back Out There One Month From Today
Unabridged Audiobook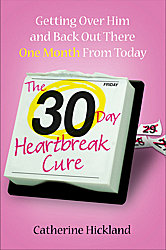 Duration:
5 hours 46 minutes
Summary:
A straightforward, day-by-day plan for healing heartache in one month from the star of ABC's popular daytime drama One Life to Live

Day 1: It's over. You're devastated, numb, angry, lost, hurt, helpless, hopeless, shaken -- meanwhile, the source of your grief has the arrogant nerve to still be alive. He's probably having himself a perfectly good day, while you feel as if you're dying inside.

Catherine Hickland knows. She's been there. More than once. She also knows that soon you will get past your pain and on to the great life that's waiting for you. Inspired by the soap diva's own trial-and-error efforts to recover from a broken heart in a healthy and productive way, The 30-Day Heartbreak Cure is an easy-to-follow, one-day-at-a-time plan for getting yourself over him and back on your feet. All you need to do is set a deadline -- one month from today -- for your pain to end, and let Catherine guide you through it.

Catherine's solid, empathetic advice will help you take responsibility for your recovery, repair your self-esteem, and learn from the best and the worst of what you've been through. 'Look at it this way,' she says, 'you only have to follow these rules for thirty days. There's nothing you can't handle for thirty days, except feel like you're feeling today.'

Each day brings a new reflection and a simple activity that will help you look better, feel better, and ultimately discover that you're not just as good as new thanks to this experience, you are better.
Genres: