31 Bond Street: A Novel
Unabridged Audiobook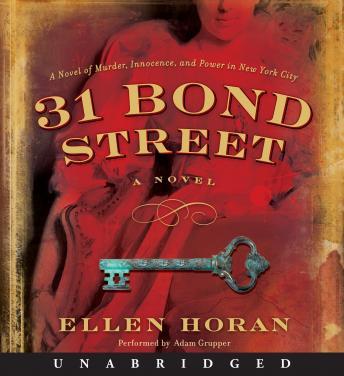 Duration:
10 hours 24 minutes
Summary:
"The skill with which Ellen Horan has braided true crime with thoughtful novelizing is pure pleasure.… Caleb Carr meets Scott Turow. What could possibly be better?"
— Beverly Swerling, author of City of God

"An impressive blend of imagination and history as it vividly brings to life one of New York's City's most notorious crimes. Ellen Horan has written a novel that, once begun, will be difficult for any reader to put down." — Ron Rash, New York Times bestselling author of Serena

31 Bond Street, an unforgettable literary debut from Ellen Horan, is based on the true story of a brutal murder, a desperate mother and mistress, and the vicious constraints of 19th century society. Fans of Caleb Carr's The Alienist, Edith Wharton's The House of Myrth, and John Berendt's Midnight in the Garden of Good and Evil will love the stunning prose and beautiful imagery of 31 Bond Street.
Genres: