50 Weight Loss Juice Recipes for Body Cleansing: Lose Weight Fast Before Your Wedding, Party, or Special Event
Unabridged Audiobook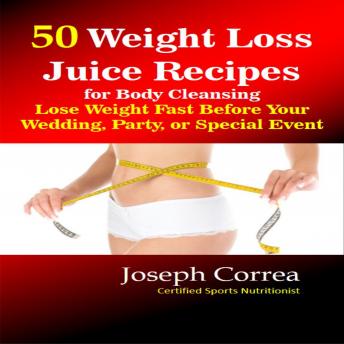 Duration:
1 hours 44 minutes
Summary:
50 Weight Loss Juice Recipes for Body Cleansing will help you lose weight naturally and efficiently. These are not to replace meals but should complement your normal day to day meals.

Being too busy to eat right can sometimes become a problem and that's why this book will save you time and help nourish your body to achieve the goals you want.



This book will help you to:

-Lose weight fast.

-Reduce Fat.

-Cleanse your body.

-Have more energy.

-Naturally accelerate Your Metabolism to become thinner.

-Improve your digestive system.



As a certified sports nutritionist, I honestly believe in the positive effects that proper nutrition can have over the body and mind. My knowledge and experience has helped me live healthier throughout the years and which I have shared with family and friends. The more you know about eating and drinking healthier, the sooner you will want to change your life and eating habits.

Nutrition is a key part in the process of being healthy and living longer so get started today.
Genres: