The 7 Habits of Highly Effective People & the 8th Habit
Abridged Audiobook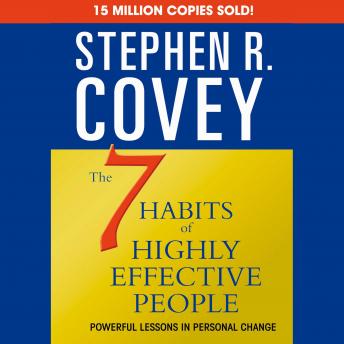 Duration:
3 hours 0 minutes
Summary:
The most inspiring and impactful books ever written, The 7 Habits of Highly Effective People and The 8th Habit have captivated audiences for nearly three decades. They have transformed the lives of presidents and CEOs, educators and parents—millions of people of all ages and occupations.

The 7 Habits have become famous and are integrated into everyday thinking by millions and millions of people. Why? Because they work!

With Sean Covey's added takeaways on how the habits can be used in our modern age, the wisdom of the 7 Habits will be refreshed for a new generation of leaders.

They include:
Habit 1: Be Proactive
Habit 2: Begin with the End in Mind
Habit 3: Put First Things First
Habit 4: Think Win/Win
Habit 5: Seek First to Understand, Then to Be Understood
Habit 6: Synergize
Habit 7: Sharpen the Saw

But accessing the higher levels of human genius in today's new reality requires a change in thinking: a new mindset and a new skill-set—in short, a new habit. The crucial challenge of our world today is this: to find our voice and inspire others to find theirs. It is what Covey calls the 8th Habit. The 8th Habit is the answer to the soul's yearning for greatness, the organization's imperative for significance and superior results, and humanity's search for its "voice."

Now in one audio edition, you can enjoy all the benefits from two of Covey's most influential books. With this tried and tested expert advice, we can change the way we think about ourselves, our purpose in life, our organizations, and humankind.
Genres:
5 of 5 people found this review helpful.

3 of 3 people found this review helpful.

1 of 1 people found this review helpful.