81 Days Below Zero: The Incredible Survival Story of a World War II Pilot in Alaska's Frozen Wilderness
Unabridged Audiobook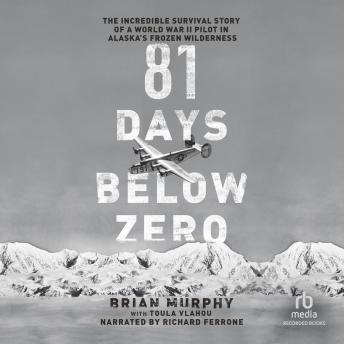 Duration:
8 hours 44 minutes
Summary:
The untold story of Leon Crane, the only surviving crew member of a World War II B-24 crash on a remote mountain near the Arctic Circle, who managed to stay alive 81 days in sub-zero temperature by making peace with nature, and end his ordeal by walking along a river to safety. Part World War II story, part Alaskan adventure story, part survival story, and even part inspirational story, this is what we call ' a good read.' This is the first full length retelling of Crane' s incredible survivalist story. It has been noted in magazines and in story collections over the years: most notably, just after the war ended, Crane' s story was included in a book aptly titled, The 100 Best True Stories of World War II , and in the 1970s, the story was a part of John McPhee' s hot-selling collection of Alaskan survival tales, Coming into the Country. The author suggests that we think Jon Krakauer' s Into the Wild ' meets' Alfred Lansing' s Endurance . I would suggest that we also think Dick Proenneke' s Alone in the Wilderness ' meets' Slavomir Rawicz' s The Long Walk . These meetings can go on and on; but there are some very impressive WWII survival stories that have become bestselling books-- even with previously ' untold' and ' unknown' stories, like Crane' s.
Genres:
3 of 3 people found this review helpful.

1 of 1 people found this review helpful.