See I Told You So
Abridged Audiobook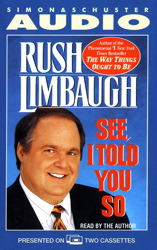 Duration:
3 hours 0 minutes
Summary:
Rush Limbaugh, America's #1 radio talk-show host, bounded to the top of the bestseller lists with The Way Things Ought to Be, the #1 New York Times bestseller and the fastest-selling audio in history. Now, this consummate entertainer and provocative political commentator, whom conservatives love and liberals love to hate—this "harmless little fuzzball" who delights in being called "The Most Dangerous Man in America"—is ready to make audio publishing history again with See, I Told You So.

The Democrats may be in the White House—but even President Clinton can't ruin this country in only four years, proclaims Rush. Conservatism's most outspoken champion, Rush leads the charge to embrace and defend the fundamental values that have shaped the American character—the same values that cause liberals to have conniptions. Ever the optimist, Rush sees the "pernicious liberal movement" as a philosophy whose inevitable demise will lead us back to the values that made America great.

A must for the politically incorrect, and sure to be another blockbuster audio bestseller, See, I Told You So is Rush at his best—revealing once again why his syndicated radio show reaches over 20 million listeners each week.
Genres: