The Descent
Abridged Audiobook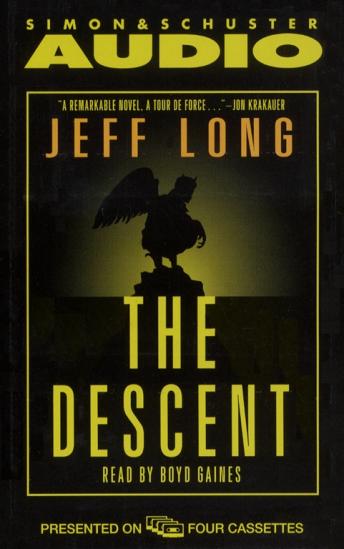 Duration:
6 hours 0 minutes
Summary:
In Tibet, while guiding trekkers to a holy mountain, Ike Crockett discovers a bottomless cave. When his lover disappears, Ike pursues her into the depths of the earth....In a leper colony bordering the Kalahari Desert, a nun named Ali von Schade unearths evidence of a proto-human species and a deity called Older-than-Old....In Bosnia, Major Elias Branch crash-lands his gunship near a mass grave and is swarmed by pale cannibals terrified of light....

So begins mankind's realization that the underworld is a vast geological labyrinth riddling the continents and seabeds, one inhabited by brutish creatures who resemble the devils and gargoyles of legend. With all of Hell's precious resources and territories to be won, a global race ensues. Nations, armies, religions, and industries rush to colonize and exploit the subterranean frontier.

Fathom by fathom, Ike guides an expedition -- and Ali -- deeper into the deadly wilderness. In the dark underground, as humanity falls away from them, the scientists and mercenaries find themselves prey not only to the savage creatures, but to their own treachery mutiny, and greed. Meanwhile, on the surface, a band of aged scholars scours for clues to Satan's existence. Is he lurking in wait for the expedition, or is he roaming the earth? One thing is certain: Miles inside the earth, evil is very much alive.
Genres: