The Star Trek: The Next Generation: The Genesis Wave Book 3
Unabridged Audiobook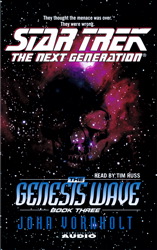 Duration:
3 hours 0 minutes
Summary:
Sweeping across the Alpha Quadrant at a terrifying speed, a wave of Genesis energy has wiped out whole populations of entire planets, rearranging matter on a molecular level to create bizarre new landscapes and life-forms.
The U.S.S. Enterprise™, commanded by Captain Jean-Luc Picard, managed to counter the threat, halting the wave in its tracks and stopping the alien race that had sent the wave crashing through the galaxy. In the process, the crew saved trillions of souls and hundreds of inhabited planets from the mutagenic wave. Earth itself, as well as the Romulan Empire, was saved from obliteration.
Now nothing is left to do but clean up the mess the Genesis Wave left behind. Or so it seems. Unknown to Picard and his crew, the use of the Genesis Wave on a galactic scale had weakened the walls between our dimension and one right next door, one that harbors a deadly threat to not only the survival of civilization throughout the galaxy, but the survival of reality itself.
The Genesis Wave, Book Three, is the final volume of an apocalyptic adventure that pits the desperate crew of the Starship Enterprise against a disaster of universal proportions.
Genres: