Kaplan MCAT Biochemistry Audio Review
Abridged Audiobook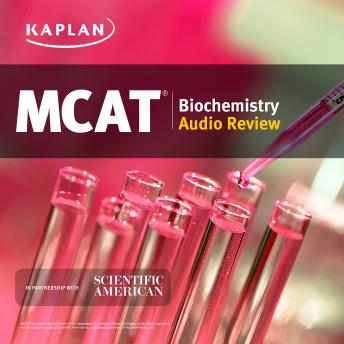 Duration:
26 hours 11 minutes
Summary:
Get 27 hours of lessons and conversations on MCAT biochemistry from a full panel of Kaplan's MCAT experts, with a 150-page downloadable workbook to follow along as you listen.

From the makers of the #1 MCAT course, Kaplan's MCAT Biochemistry Audio Review is designed to fit into times when you couldn't otherwise study—whether you're on the road, at the gym, or just looking for a change of pace from reading a textbook. Each of the 12 chapters is a multi-hour conversation with some of Kaplan's best biochemistry minds, where they share their deep knowledge of the content, their experience with students, and their most effective learning techniques as they go along. Hosted by Jeffrey Koetje, M.D., their conversations cover the full scope of MCAT biochemistry and are structured and informative, but also open and casual, almost as if they're reviewing the material themselves and you've joined their study group.

By the end of this audio course, you'll hear their take on the best ways to learn and remember all the biochemistry (and much of the molecular biology) you need to know for the MCAT, including amino acids, plasma membranes, cell metabolism, and much more. You can listen to it on the go, follow along and take notes with the MCAT Biochemistry Audio Workbook (included as digital download, but also available in print), or even integrate this into a larger course of study with Kaplan's MCAT Complete 7-Book Subject Review. However you study, you'll enjoy the fresh and memorable perspective on this important material that you'll use on the MCAT, in medical school, and beyond.
Genres: