The Asshole Survival Guide: How to Deal with People Who Treat You Like Dirt
Unabridged Audiobook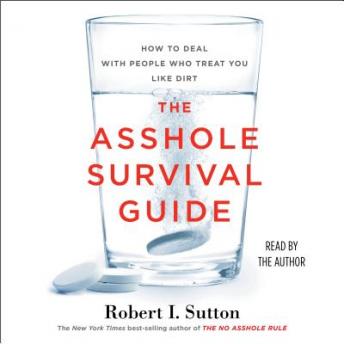 Duration:
6 hours 1 minutes
Summary:
The New York Times bestselling author of The No Asshole Rule reads his guide on how to preserve civility, sanity, and success when facing a business world full of difficult people.

Since The No Asshole Rule became a national bestseller a decade ago, Robert Sutton has been asked, in a thousand different ways, the best way to deal with an asshole. This new guide presents Sutton's signature prescriptive advice for everyone who is feeling oppressed, demeaned, or disrespected by people who treat them badly.

Drawing on a trove of real-life stories from people dealing with implacable jerks in every kind of setting, Sutton delivers a highly effective, methodical game plan, starting with a diagnosis: Exactly what kind of asshole are you dealing with? From there, Sutton provides thoughtful, field-tested strategies aimed at specific asshole-deflecting goals—avoiding them, outwitting them, disarming them, and countering their negative influence. He even teaches you how to look inward to stifle your own jackass.

Equally useful and entertaining, The Asshole Survival Guide helps you develop a robust new outlook that can preserve the sanity of your workplace and personal life, and stop all those perfectly good days from being ruined by some jerk.
Genres: