Our Damaged Democracy: We the People Must Act
Unabridged Audiobook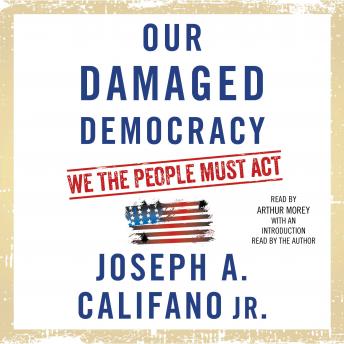 Duration:
6 hours 22 minutes
Summary:
"A Washington insider draws on decades of experience to deliver a blistering critique of the state of American government" (Kirkus Reviews) in an authoritative scrutiny of the forces that run our society and a call to fix our democracy before it's too late.

If you've been watching the news and worrying that our democracy no longer works, this book, "a cri de coeur from one of our wisest Americans" (Michael Beschloss, Presidential Historian), will help you understand why you're right. There is colossal concentration of power in the Presidency. Congress is crippled by partisanship and hostage to special interest money. The Supreme Court and many lower federal courts are riven by politics. Add politically fractured and fragile media, feckless campaign finance laws, rampant income and education inequality, and multicultural divisions, and it's no wonder our leaders can't agree on anything or muster a solid majority of Americans behind them.

With decades at the top in government, law, and business, Joseph A. Califano, Jr. has the capacity to be party-neutral in his evaluation and the perspective to see the big picture of our democracy. Using revealing anecdotes featuring every modern president and actions of both parties, he makes the urgent case that while we do not need to agree on all aspects of politics, we do need to trust each other and be worthy of that trust. He shows how, as engaged citizens, we can bring back systems of government that promote fairness and protect our freedom. "It's hard to argue with [Califano's] analysis" (The New York Times Book Review) that the longer we wait to fix these problems, the more dangerous our situation will become.
Genres: