Seven Sundays: A Six-Week Plan for Physical and Spiritual Change
Unabridged Audiobook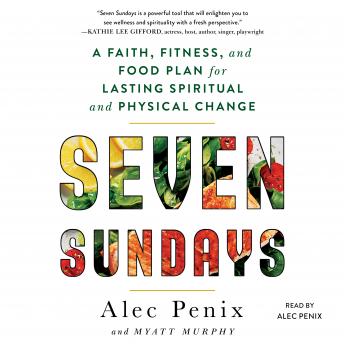 Duration:
6 hours 40 minutes
Summary:
A Biblically grounded, six-week plan to lead you on the path toward losing weight and getting healthier by focusing on the connections between spiritual and physical health—"Seven Sundays is a powerful tool that will enlighten you to see wellness and spirituality with a fresh perspective" (Kathie Lee Gifford).

In Seven Sundays, celebrity trainer and devoted follower of Christ Alec Penix explains the connection between faith and fitness, and shares both his own and his clients' success stories. When our spiritual and physical bodies are built up simultaneously, we find ourselves more likely to stick with healthier, life-changing habits, appreciate what we have, be thankful for what we've gained (and lost), and feel content with how far we've traveled.

Seven Sundays is a six-week program that shows you how easy it is to undergo your own total transformation. The book is organized as a day-by-day journey in the same manner as a daily devotional. Over the course of each week, you will work on the "6 Pillars of Purpose" that build up this strength. You will also enjoy "Faith-Full" foods and explore a new spiritual theme each week. Ultimately, you'll undertake a meaningful journey that will finally connect your body and spirit.

Seven Sundays is sure to "inspire people to become the best version of themselves, through strengthening their body, mind, and spirit" (Roma Downey, actress, producer, and New York Times bestselling author of Box of Butterflies). You'll learn to embrace the fact that you deserve to exercise, eat right, and be healthy, and recognize your body as a spiritual vessel.
Genres: