How to Hold a Grudge: From Resentment to Contentment-The Power of Grudges to Transform Your Life
Unabridged Audiobook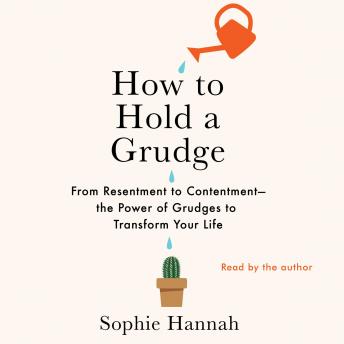 Duration:
8 hours 51 minutes
Summary:
NAMED ONE OF THE 100 MUST-READ BOOKS OF THE YEAR BY TIME MAGAZINE

The first and only comprehensive examination of the universal but widely misunderstood practice of grudge-holding that will show you how to use grudges to be your happiest, most optimistic, and most forgiving self.

Secretly, we all hold grudges, but most of us probably think we shouldn't, and many of us deny that we do. To bear a grudge is too negative, right? Shouldn't we just forgive and move on? Wrong, says self-appointed grudge guru Sophie Hannah, in her groundbreaking and irreverent self-help guide. Yes, it's essential to think positively if we want to live happy lives, but even more crucial is how we get to the positive. Denying our negative emotions and experiences is likely to lead only to more pain, conflict, and stress.

What if our grudges are good for us? What if we could embrace them, and use them to help ourselves and others, instead of feeling ashamed of our inability to banish negative emotions and memories from our lives? With contributions from expert psychotherapists as well as extracts from her own extensive catalog of grudges, Sophie Hannah investigates the psychological origins of grudges and also offers not-so-obvious insights into how we should acknowledge—and embrace—them in order to improve the quality of our interpersonal relationships and senses of self. Grudges do not have to fill us with hate or make us toxic, bitter, and miserable. If we approach the practice of grudge-holding in an enlightened way, it will do the opposite—we will become more forgiving.

Practical, compassionate, and downright funny, How to Hold a Grudge reveals everything we need to know about the many different forms of grudge, the difference between a grudge and not-a-grudge (not as obvious as it seems), when we should let a grudge go, and how to honor a grudge and distill lessons from it that will turn us into better, happier people—for our own benefit and for the sake of spreading good and limiting harm in the world.
Genres: