Make It Work: 22 Time-Tested, Real-Life Lessons for Sustaining a Healthy, Happy Relationship
Unabridged Audiobook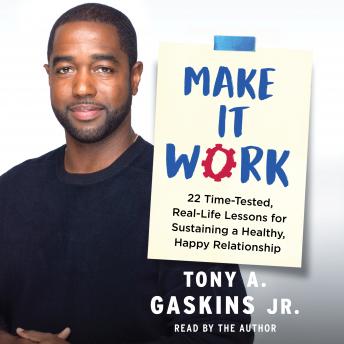 Duration:
7 hours 45 minutes
Summary:
Celebrity coach and speaker Tony A. Gaskins shares proven principles—gleaned from real life failures and successes—for building and sustaining a healthy relationship in today's times.

Tony A. Gaskin's appearance on the Oprah Winfrey Show launched his career as a life coach and relationship counselor. After speaking about domestic violence, he felt empowered to speak his truth. Since then, Gaskin has been a faithful and committed husband for over a decade, and has counseled thousands, leading to millions following him online and making him one of America's foremost experts on love and relationships.

Practical and accessible, Make It Work walks you through a series of lessons on how to maintain a healthy and long-lasting relationship. Drawing inspiration from the Bible and using his own successes and failures, Gaskins offers a framework for how you can identify the right person to settle down with, set standards which prompt longevity in love, and know what to avoid in a relationship. All this is told in his empowering and empathetic tone that his loyal and devoted following has come to love and trust.

In a hopeful response to culture where breakups and divorces are all too common, Make It Work is as an essential resource to help your relationship thrive in this day and age.
Genres:
1 of 1 people found this review helpful.