A Very Irregular Head: The Life of Syd Barrett
Unabridged Audiobook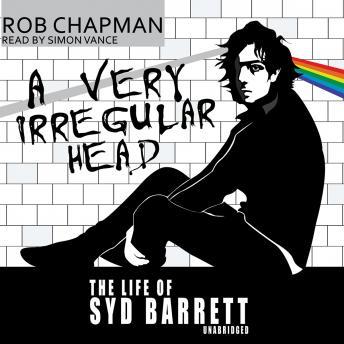 Duration:
13 hours 43 minutes
Summary:
"I don't think I'm easy to talk about. I've got a very irregular head. And I'm not anything that you think I am anyway" (Syd Barrett, Rolling Stone, 1971).
Roger Keith "Syd" Barrett was the definition of a golden boy. With good looks and an aptitude for music, he was a charismatic child who fast became a teenage leader in 1960s England. Along with three school chums—Roger Waters, Richard Wright, and Nick Mason—he formed what would become Pink Floyd. Starting as a British cover band, they soon pioneered a new sound: British psychedelic rock. With early, trippy, Barrett-penned hits, Pink Floyd captured the zeitgeist of swinging London in all its technicolor glory.
But there was a dark side. Barrett fell in with some hardcore hippies and began taking large quantities of LSD. His already-fragile mental state—most believe him to have been schizophrenic—further unraveled. The once bright-eyed lad was quickly replaced by a sinister, dead-eyed shadow of his former self given to eccentric, reclusive, and sometimes violent behavior. Sacked from the band, Barrett retreated to his mother's house, where he remained until his death, rarely seen or heard.
A Very Irregular Head lifts the veil of secrecy that has surrounded Syd Barrett for nearly four decades, drawing on exclusive access to family, friends, archives, journals, letters, and artwork to create the definitive portrait of a brilliant, tragic artist. Besides capturing the promise of Barrett's youth, Chapman challenges the notion that Barrett was a hopelessly lost recluse in his later years and creates a portrait of a true British eccentric who is rightfully placed within a rich literary lineage which stretches through Kenneth Graham, Hilaire Belloc, Edward Lear, Lewis Carroll, John Lennon, David Bowie, and on up to Damon Albarn of Blur.
A tragic, affectionate, and compelling portrait of a singular artist, this will stand as the authoritative word on this very English genius for years to come.
Genres: