The Abbott and Costello Show, Vol. 1
Unabridged Audiobook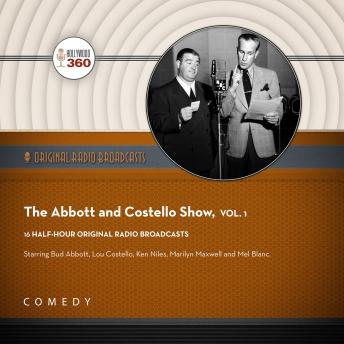 Duration:
7 hours 56 minutes
Summary:
Bud Abbott and Lou Costello were a comedy duo seen in movies, on TV, and heard on radio. Their comedy routine "Who's On First?" helped make them a national sensation.

The duo started in Vaudeville and by the fall of 1942, Abbott and Costello had their own weekly radio program and topped the popularity polls of Radio Daily and Radio Guide. The Abbott and Costello Show ran for seven years until the summer of 1949. By then filming was completed for Abbott and Costello Meet the Killer, Boris Karloff, and Lou Costello was bedridden for several months due to a relapse of rheumatic fever-a health ailment he battled back in 1943. His illness prevented ABC from renewing the contract for an additional season on radio, so the boys ventured into the television business. Produced by Costello's wife, Patricia, the television series lasted two seasons and gave the boys an opportunity to reprise the best comedic sketches and scenarios from their radio scripts. The next time you watch one of their television programs or one of their big-screen movies, remember that the flat sarcasm of Bud Abbott and the shrieks from Lou Costello originated on radio-the perfect medium for verbal standup that is often imitated today at fan gatherings. Enjoy sixteen of the best comedy broadcasts of Abbott and Costello!

1/25/45 - "Merchant Marines" 5/9/46 - "Lou Wants to Join the Circus" 5/30/46 - "Preparing for Guest Elsa Maxwell's Party" 10/10/46 - "Ha-Lou-cinating" 3/20/47 - "Hanley Stafford Subs for Bud Abbott" 6/6/47 - "Bud and Lou Need Some Dough" 4/21/48 - "Marriage Bureau" 12/2/48 - "Private Eye Sam Shovel" 12/9/48 - "Private Eye Sam Shovel" 1/20/49 - "Secretary Who Was Shot" 2/3/49 - "Poisoned Food" 2/10/49 - "Nephew Who Gambled Away His Mother" 3/10/49 - "Striptease Dancer Arrested for Income Tax Fraud" 3/17/49 - "Cannibal Who Cooked a Long-Haired Musician" 3/24/49 - "Man Who Burned His Sweetheart's Body" 3/31/49 - "Case of the Gorgeous Blonde Model"
Genres: