The Accidental Alpha Woman: The Guide to Thriving When Life Feels Overwhelming
Unabridged Audiobook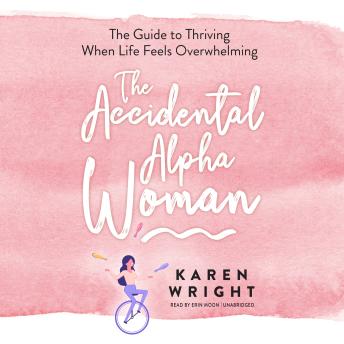 Duration:
2 hours 33 minutes
Summary:
Stop being "the strong one" and start being you.

You're doing it all, and it's too much. Between work, kids, parents, money, meals, and everything else on your plate, it's no wonder you're exhausted. You feel alone, misunderstood-and sometimes hopeless. Because let's face it, this idea of being a "strong woman" is highly overrated.

But what if there were another way? What if we put limits and boundaries around what it means to be a strong woman? What if you could be strong and ask for help? What if you could be independent without feeling so alone?

Karen Wright is one of the most experienced, skilled, and respected executive coaches in the world. And, as a business owner, single parent, and sole provider, she has lived the "I'm doing it all" life. In The Accidental Alpha Woman, she combines what she's learned on her personal journey with what she knows professionally to provide a simple but powerful framework to solve this whole "strong woman" problem. In The Accidental Alpha Woman, you'll learn:

How to separate reality from how you wish things would beHow to assess what your situation means to you and to your lifeHow to make difficult, seemingly untenable choicesHow to ask for help when you need itHow to reconnect with the real "you" and create a life that has greater community, ease, and funSo stop being so alone and so tired. Get relatable, practical wisdom from someone who's been there.
Genres: