The Accidental Familiar
Unabridged Audiobook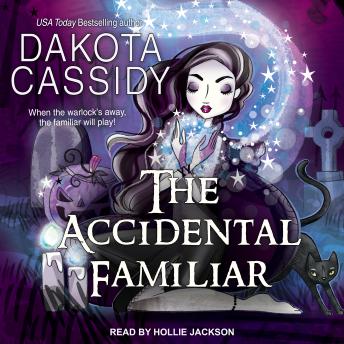 Duration:
7 hours 33 minutes
Summary:
Desperate to pay the rent, Broadway star wannabe Poppy McGuillicuddy is the middle of DJ-ing a Halloween party when a mishap with a cat named Calamity changes her life forever. Suddenly, she's a familiar-as in, a witch's familiar. Or in her case, a warlock's. Even more specifically, a gorgeous warlock . . . who wants nothing to do with her. Thank God for the ladies from OOPs, who've promised their help as Poppy navigates her accidental paranormal powers.

Despite his last familiar leaving him bitter and disillusioned, warlock Rick Delassantos still isn't heartless. He's agreed to give Poppy a few days before contacting Familiar Central and demanding she be reassigned elsewhere. But barely a day is all it takes for Poppy to become the target of some seriously bad magic, forcing Rick to keep her close to ensure her safety. Not exactly a hardship, when his new familiar is as sexy as she is sassy.

With help from Marty, Nina, Wanda, and assorted other OOPs friends, Rick and Poppy learn some important lessons-fate works in mysterious ways; things aren't always as they seem; and sometimes the worst evil can be found close to home.
Genres: