Accidentally Divine
Unabridged Audiobook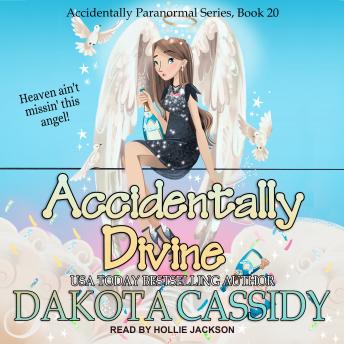 Duration:
8 hours 17 minutes
Summary:
Heaven ain't missin' this angel . . .

At a fateful New Year's Eve party, Georgina Maverick, a little bit drunk, a lot mired in guilt from her tortured past, trips and falls off a rooftop, tumbling ten stories to her almost death.

Her friend and coworker, Dexter Bridger, the man she discovers also happens to be her guardian angel, is on the case. He saves her, but he opens an entire can of worms when he nicks her shoulder and turns George into an angel, too.

With the help of the OOPS ladies and some divine intervention from Dex, George is learning how to be a guardian angel in the hope she can earn her permanent wings. But worse? All the secrets that haunt both George and Dex are coming home to roost.

Yet for George, the questions cut far deeper. Why is it so hard to overcome her brutal past and find the thing she's always wanted-peace of mind and acceptance? And how the heck is she supposed to be someone's guardian angel and guide them to emotional safety when her own life is such a wreck?

Who's been lurking in the shadows trying to steal George's wings? Because if someone gets their hands on her wings, guess what? She loses her soul. Forever . . .

Contains mature themes.
Genres: