Achieve Anything Bundle, 2 IN 1 Bundle: How to Reach Anything and Power of Manifesting
Unabridged Audiobook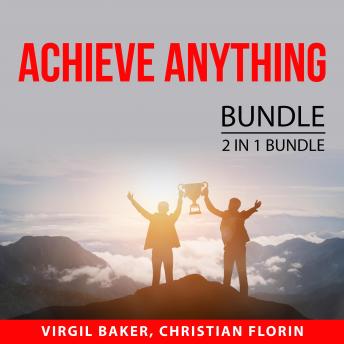 Duration:
0 hours 31 minutes
Summary:
Achieve Anything Bundle, 2 IN 1 Bundle: How to Reach Anything and Power of Manifesting

Goal setting is the process of deciding what you would like to accomplish and then making a plan to achieve the desired result. Now while most everyone can come up with goals and aspirations, not everyone knows how to achieve those goals. Goal setting is a structured process. You decide on a goal then you create a plan and then put that plan into action. It is this last step in the process that presents the most problems for many people. Setting the goal and devising a plan might be easier but executing it ìs another matter altogether. Manifestation can also help because it helps give you direct control over your life and they make you stronger and humble in the sense that you come to know the realities of your life.

This bundle will teach you all the information about setting goals and creating successful strategies to achieve those goals. It will tackle both personal goals for individual success and business goals to improve your business rather than any aspect of personal life. You will also learn all about manifestation, the philosophy behind it, what it's all about, the benefits, and how to do it. You will learn the exact logic behind manifestation and how to execute manifestation techniques so you can do all the things that are most important in life.

This 2 in 1 bundle includes the following audiobooks:

1. How to Reach Anything: The Ultimate Guide on How to Execute Your Goals, Discover The Proven Strategies on How to Make Your Visions A Reality

2. Power of Manifesting: The Ultimate Guide on How to Master the Art of Manifesting, Learn How Manifestation Allows You to Live Your Ideal Life and Helps Achieve Your Dreams

Get this Achieve Anything 2 in 1 Bundle today!
Genres: