The Adventures of Bella & Harry, Vol. One: Let's Visit London!, Let's Visit Paris!, and Christmas in New York City!
Unabridged Audiobook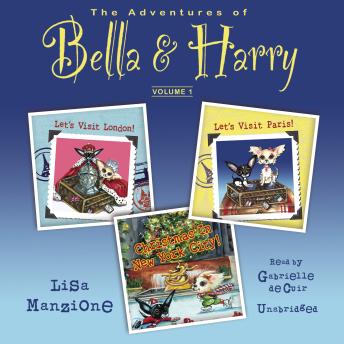 Duration:
0 hours 30 minutes
Summary:
The Adventures of Bella & Harry is a book series that chronicles the escapades of a pup named Bella, her little brother Harry, and their family as they explore the sights and sounds of new, exciting cities around the world. This series is an informative and exciting way to introduce children to travel, different countries and customs, history, landmarks, and more—sure to win the hearts of young listeners.

Join Bella and Harry as they travel to London with their family and visit the Tower Bridge, Buckingham Palace, Stonehenge, and other noteworthy places. Along the way, local cuisine is introduced.

Then join Bella and Harry as they travel to Paris with their family and discover the Louvre, Eiffel Tower, Arc de Triomphe, and other fascinating places. Local cuisine is presented to inquisitive youngsters, and basic French phrases are introduced.

Lastly, come along with Bella and Harry as they travel to New York City for Christmas. Join the pups as they stroll down Fifth Avenue, see the Rockefeller Center Christmas tree, go ice skating, visit Radio City Music Hall, and more, all while sampling New York City's famous street food.

The comedic and informative adventures of Bella and Harry will stimulate children's imaginations and foster a thirst for understanding the world in which they live.
Genres: