Afraid
Unabridged Audiobook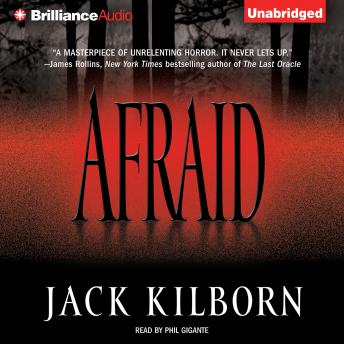 Duration:
9 hours 41 minutes
Summary:
WELCOME TO SAFE HAVEN, POPULATION 907...

Nestled in the woods of Wisconsin, Safe Haven is miles from everything. With one road in and out, this is a town so peaceful it has never needed a full-time police force. Until now...

A helicopter has crashed on the outskirts of town and something terrible has been unleashed. A classified secret weapon programmed to kill anything that stands in its way. Now it's headed for the nearest lights to do what it does best. Isolate. Terrorize. Annihilate.

Soon all phone lines are dead and the road is blocked. Safe Haven's only chance for survival rests on the shoulders of an aging county sheriff. And as the body count rises, the sheriff realizes something even more terrifying—maybe death hasn't come to his little town by accident...

WELCOME TO SAFE HAVEN, POPULATION 907... 906... 905...

AFRAID by Jack Kilborn
Are you afraid of the dark? You will be.
Genres: