Against the Tide: Rickover's Leadership Principles and the Rise of the Nuclear Navy
Unabridged Audiobook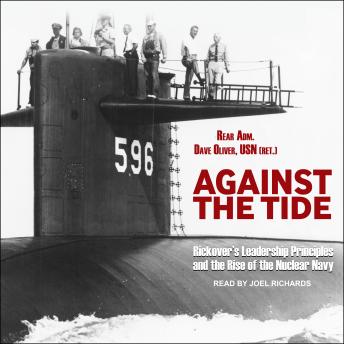 Duration:
6 hours 15 minutes
Summary:
Against the Tide is a leadership book that illustrates how Adm. Hyman Rickover made a unique impact on American and Navy culture. Dave Oliver is the first former nuclear submarine commander who sailed for the venerable admiral to write about Rickover's management techniques. Oliver draws upon a wealth of untold stories to show how one man changed American and Navy culture while altering the course of history.

The driving force behind America's nuclear submarine navy, Rickover revolutionized naval warfare while concurrently proving to be a wellspring of innovation that drove American technology in the latter half of the twentieth-century. As a testament to his success, Rickover's single-minded focus on safety protected both American citizens and sailors from nuclear contamination, a record that is in stark contrast to the dozens of nuclear reactor accidents suffered by the Russians.

While Rickover has been the subject of a number of biographies, little has been written about his unique management practices that changed the culture of a two-hundred-year-old institution and affected the outcome of the Cold War.
Genres: