The Age of Promise: Escape the Shadows of the Law to Live in the Light of Christ
Unabridged Audiobook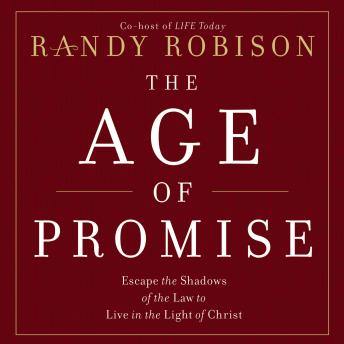 Duration:
6 hours 52 minutes
Summary:
The past provides a blueprint for the present and promises hope for the future.

Many Christians struggle to understand Old Testament teachings. We look at the laws and rituals and wonder how those long-ago practices could possibly be relevant to our lives now. Randy Robison believes they are not only necessary but are, in fact, vital to a closer walk with Jesus.

In The Age of Promise, Robison introduces us to ten foundational promises made in the Old Testament and transformed in Christ, ten mysteries now revealed in Jesus that offer us a deeper, more powerful relationship with the Father. These ten promises, which bring God's intricate plan of redemption to fulfillment, include:


- The promise of deliverance
- The promise of the chosen people
- The promise of the temple
- And much, much more!

When we learn from the past and apply it to the present, we determine our future. The Age of Promise invites us to uncover the glorious riches of our heritage of faith and experience real transformation in our everyday lives. With the light of Christ shining on the shadows of the past, we develop a more complete perspective and discover a deeper, more powerful relationship with the eternal Father who is the same yesterday, today, and forever.
Genres: