Alan Bennett: Doctor Dolittle Stories: Classic readings from the BBC archive
Abridged Audiobook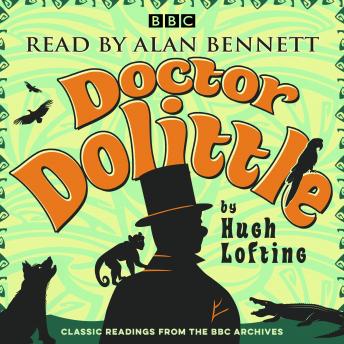 Duration:
9 hours 55 minutes
Summary:
Alan Bennett reads three enchanting Doctor Dolittle stories

Doctor Dolittle has an extraordinary talent – he can talk to the animals! Taught by his parrot, Polynesia, he is soon able to chat to every kind of creature – and his skill leads him into all sorts of adventures.

In The Story of Doctor Dolittle, the Doctor and his pets set sail for Africa to save the monkeys – but they face great danger and challenges, including a sinking ship and Barbary pirates...

The Voyages of Doctor Dolittle finds Doctor Dolittle on the high seas once again, this time with his young friend Tommy Stubbins. The pair head for Spider Monkey Island, a mysterious place of magic and secrets...

Doctor Dolittle's Circus sees the Doctor in need of money, so he and his Pushmi-Pullyu join the circus. They're such a hit with the other animals that Doctor Dolittle soon finds himself running the show!

Brilliantly read by Alan Bennett, whose delightfully whimsical rendition brings Doctor Dolittle and all his animal friends magically to life, this charming collection of stories will delight listeners young and old.
Genres: