All Cats Are Grey In The Dark
Unabridged Audiobook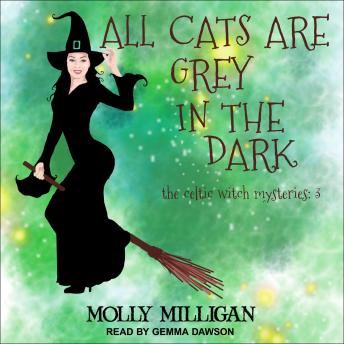 Duration:
4 hours 56 minutes
Summary:
The third volume following the magical mystery adventures of Bron the Welsh hedge witch, her American cousin Maddie, and their crazy bunch of friends (and enemies).

Herbs are good for you, right?

Maybe not so good for one person-who's found dead beside a cauldron of magical herbs. Glittery, frilly Sian Pederi is running a course up in the hills called 'Unfurl Your Inner Spirit,' and it's all path working, ley lines, drumming, and vegan food . . . until the corpse rocks up.

Bron needs to get to the bottom of it, but literally everyone wanted this person dead-and even Bron herself could have cheerfully hit them with a tree branch.
She's got other problems, too. Harkin, her cat, is obsessed with the number three. Her mad Great Aunt might, or might not, be plotting the demise of her actual nemesis Elsie Delaney, and hunky police officer Adam is being just so impossibly nice.

With more Celtic folklore, faeries, druids, helpful vicars, London journalists, and random hippies than you can shake an authentic hand-carved sigil-adorned harp at . . . welcome back to the crazy world of Llanfair!
Genres: