All the Money in the World: How the Forbes 400 Make--and Spend--Their Fortunes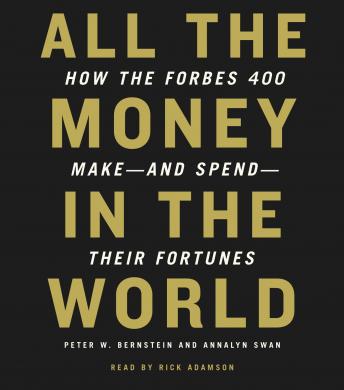 Duration:
6 hours 25 minutes
Summary:
Published to coincide with the twenty-fifth anniversary of the Forbes 400, All the Money in the World, the work of a team of prominent editors and business writers, goes behind the celebrated list to paint a vivid and revealing portrait of the wealthiest Americans of the past quarter century. Abundantly anecdotal, with insights gleaned from original research, interviews with Forbes 400 members, and never-before-compiled data, it is filled with illuminating "infographics"—tables, sidebars, factoids. The book shows how the superrich succeed, how fortunes are made in various industries, and how, once made, they are saved, enhanced, and sometimes squandered.

From Wall Street to the West Coast, from blue-collar billionaires to blue-blood fortunes, from the Google guys to hedge fund honchos, All the Money in the World gives us the lowdown on, among other things: the all-time richest Americans, who made and lost the most money in the past twenty-five years, the fields and industries that have produced the greatest wealth, the biggest risk takers, the most competitive players, the most wasteful family feuds, the trophy wives, the most conspicuous consumers, the biggest art collectors, the most and least generous philanthropists.

Produced in collaboration with Forbes magazine, All the Money in the World is a vastly entertaining, behind-the-scenes look at today's Big Rich, a subject of enduring fascination to all Americans.
Genres: