All the Presidents' Bankers: The Hidden Alliances That Drive American Power
Unabridged Audiobook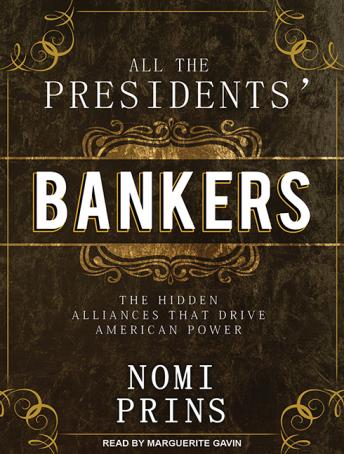 Duration:
20 hours 0 minutes
Summary:
Culled from original presidential archival documents, All the Presidents' Bankers delivers an explosive account of the hundred-year interdependence between the White House and Wall Street that transcends a simple analysis of money driving politics-or greed driving bankers.


Nomi Prins ushers us into the intimate world of exclusive clubs, vacation spots, and Ivy League universities that binds presidents and financiers. She unravels the multi-generational blood, intermarriage, and protege relationships that have confined national influence to a privileged cluster of people.


This unprecedented history of American power illuminates how financiers have retained their authoritative position through history, swaying presidents regardless of party affiliation. It explores the alarming global repercussions of a system lacking barriers between public office and private power. Prins leaves us with an ominous choice: either we break the alliances of the power elite, or they will break us.
Genres: