Altered
Unabridged Audiobook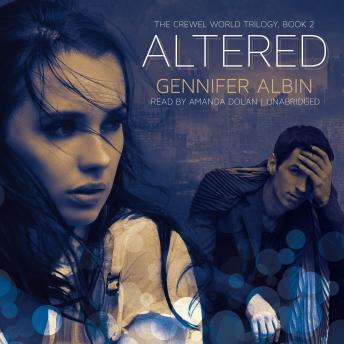 Duration:
10 hours 4 minutes
Summary:
In this dazzling new installment of the Crewel World series,Adelice learns to weave her own destiny.
Adelice always knew there'd be a price for destroying theGuild, but is she willing to pay it?
After a daring escape to Earth from Arras, sixteen-year-oldAdelice Lewys thought she would finally be in control of her own destiny. Shewould be free to be true to herself and to her heart-to love Jost, the boy theGuild said she could not have. But Earth is not abandoned, as she'd always beentaught it was. It's inhabited by survivors waging a war against Arras. Theworld that was supposed to offer a new beginning is still tangled up in thepast.
Now Adelice is being called upon to harness her phenomenalpower and break Earth from the grip of the Guild. But as she uncovers thetruth about her parents and her former life, she discovers that nothing onEarth is as it seems either. Everyone has secrets, especially those she lovesmost. What's more, those secrets are driving Adelice and Jost apart, andAdelice into the waiting arms of Jost's brother, Erik. Torn between twobrothers and two worlds, Adelice must decide what-and who-she's fighting for,before it's too late.
Genres: