Amazon FBA Dominance: Make 6 Figure a Year Online from Your Home Selling Hot and Profitable Products on Amazon
A free trial credit cannot be used on this title.
Unabridged Audiobook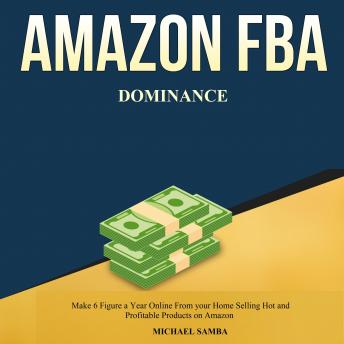 Duration:
2 hours 54 minutes
Summary:
Aren't you tired of working 9-5 every single day in a job that doesn't fulfill you? Isn't time that you learn the best proven methods that will help you understand how to make money online from home? One of the most popular business models right now is called Amazon FBA and it is popular for many magnificent reasons. Amazon does all the work for you. It stores your products and when you receive an order from a customer, Amazon automatically ships the item to the customer, so you don't have to fulfill the orders one by one manually. How nice is that? 

In addition, you, as the business owner, don't have to worry much about marketing your products because Amazon is a search engine in itself and it is the number-one website in the world; therefore, it gets millions of visitors on a daily basis, so most traffic that you will get is free and organic. Having spent the past years running a successful private-label product business, I can tell you in order to succeed, you need to learn and understand how to conquer Amazon algorithm so you can succeed in this business. This book will hold your hand and show you what you need to do in every step of the process. 

You will learn: 


- What Amazon FBA is and why you need to start selling today 
- Understand how to step up your Amazon Seller Central Account 
- Strategies to choose a profitable niche 
- How to choose products that sell like crazy 
- Tips on negotiating with manufacturers 
- How to launch your products 
- How to strategically scale up your Amazon FBA business 
- How to use Amazon ads to triple your sales 
- Usual mistakes to avoid when selling on Amazon 
- And much more....

If you are ready to learn how to start an Amazon FBA business and start making money from home, then scroll up and click the buy button. 
Genres: