Amazon FBA Private Label Step by Step: Exactly How to Start Your Own FBA Private Label Brand. A Step by Step Guide to Selling on Amazon for Beginners.
A free trial credit cannot be used on this title.
Unabridged Audiobook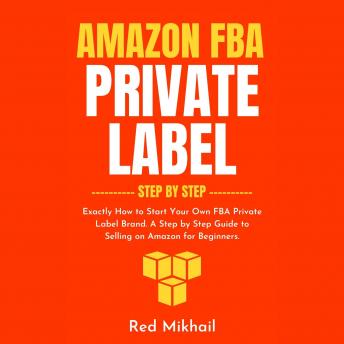 Duration:
1 hours 32 minutes
Summary:
If You Want to Start Your Own Amazon Private Label Brand, Then This Book Is for You.

How do you start an Amazon business if you have limited capital and you don't know anything about e-commerce? How do you build a brand that you can be proud of?

In this book, you will discover:


- 6 things to take note of to increase your chances of seller's account approval.
- The main difference between a product and a brand, and why you should focus on the latter.
- The one foundational piece of starting an e-commerce business that most beginner sellers ignore at their own peril. PLEASE, DO NOT IGNORE THIS ONE.
- The 9-point beginner criteria that you should follow when you start your product research.
- Examples of actual product research and the breakdown and explanation on why they are good products to sell on Amazon.
- What type of products to avoid if you're just starting out.
- 5 new ways to find suppliers and exactly what to do so you can evaluate whether they're legit or not (Supplier Evaluation Cheat Sheet also included)
- A step by step instruction on how to ship your products directly to Amazon's warehouse/s.
- The 2-step process of launching a new product in the market.
- The basics of Amazon PPC explained: how to set up a campaign, how to test, how to evaluate, and things to do to scale your profit margin.

Discover a simple, actionable, and beginner-friendly way of starting an AMAZON FBA business from scratch.

GRAB YOUR COPY AND START READING TODAY.
Genres: