American Cuisine: And How It Got This Way
Unabridged Audiobook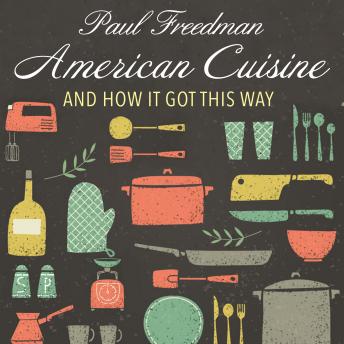 Duration:
14 hours 10 minutes
Summary:
With an ambitious sweep over two hundred years, Paul Freedman's compelling history shows that there actually is an American cuisine.

For centuries, skeptical foreigners-and even millions of Americans-have believed there was no such thing as American cuisine. In recent decades, hamburgers, hot dogs, and pizza have been thought to define the nation's palate. Not so, says food historian Paul Freedman, who demonstrates that there is an exuberant and diverse, if not always coherent, American cuisine that reflects the history of the nation itself.

'A book to be savored' (Stephen Aron), American Cuisine is also a repository of anecdotes that will delight food lovers: how dry cereal was created by William Kellogg for people with digestive and low-energy problems; that chicken Parmesan, the beloved Italian favorite, is actually an American invention; and that Florida Key lime pie goes back only to the 1940s and was based on a recipe developed by Borden's condensed milk. More emphatically, Freedman shows that American cuisine would be nowhere without the constant influx of immigrants, who have popularized everything from tacos to sushi rolls.
Genres: