American Dreams: Restoring Economic Opportunity for Everyone
Unabridged Audiobook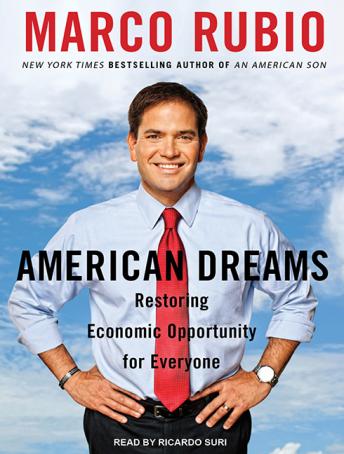 Duration:
6 hours 20 minutes
Summary:
Marco Rubio's parents came to the United States in 1956. The country they found was truly a land of opportunity, where hardworking people with grade school educations could afford a home, a car, and college for their kids. A country where maids and bartenders could raise doctors, lawyers, small-business owners, and maybe even a U.S. senator. That was the American Dream-our country's central promise to its people: If you work hard and play by the rules, you'll find tremendous opportunities and an even better life for your children.


Rubio wrote this book because we stand at a critical juncture. What kind of country are we going to be? Will we surrender to Obamacare and other laws that crush innovation and entrepreneurship? Will we accept a powerful nanny state and the erosion of family values? Will we allow politics to kill the American Dream? Or will we rise to the challenge-and take back our legacy as the only nation on earth that offers unrestricted opportunity to all?


In this book you'll meet an over-regulated small-businessman, a struggling single mother, an out-of-work and in-debt college graduate, and others who want nothing more than their own shot at the American Dream. Their stories are our stories; their challenges are our challenges.

Of course no book or politician can single-handedly restore the American Dream. But a movement, working to promote the values and can-do spirit that made our country exceptional, can turn everything around.
Genres: