American Restoration: How Faith, Family, and Personal Sacrifice Can Heal Our Nation
Unabridged Audiobook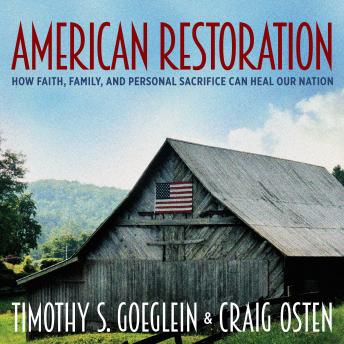 Duration:
6 hours 50 minutes
Summary:
THIS IS NO TIME TO RUN AND HIDE

America seems to be crumbling from within. Having abandoned the Judeo-Christian values that are the foundation of its culture, our nation, in the eyes of many, is going the way of the great civilizations of the past.

If our 250-year experiment in ordered liberty has really run its course, is it time to recognize the inevitable, pack up our families, and head for the hills, hunkering down through the dark days to come?

Or is there hope for an American restoration?

Tim Goeglein and Craig Osten, battle-hardened veterans of the culture wars, know as well as anyone that the decadence is undeniable. But they make the case that an American restoration is not only possible, but probable-if we act now.

The key is for Christians to engage with the culture, not flee from it, to be the salt and light that will renew it from within. That engagement must take place especially at the local level, where real spiritual and cultural transformation occurs. If America returns to its spiritual foundations, the tumultuous times we live in will be nothing more than a bumpy detour in our nation's history. This book is a roadmap for the way back.
Genres: