American Scripture: Making the Declaration of Independence
Unabridged Audiobook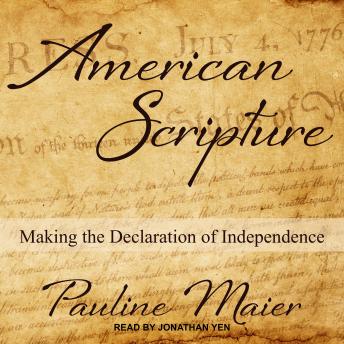 Duration:
11 hours 39 minutes
Summary:
Maier describes the transformation of the Second Continental Congress into a national government, unlike anything that preceded or followed it, and with more authority than the colonists would ever have conceded to the British Parliament.

In Maier's hands, the Declaration of Independence is brought close to us. She lets us hear the voice of the people as revealed in the other 'declarations' of 1776: the local resolutions-most of which have gone unnoticed over the past two centuries-that explained, advocated, and justified Independence and undergirded Congress's work. Detective-like, she discloses the origins of key ideas and phrases in the Declaration and unravels the complex story of its drafting and of the group-editing job which angered Thomas Jefferson.

Maier also reveals what happened to the Declaration after the signing and celebration: how it was largely forgotten and then revived to buttress political arguments of the nineteenth century; and, most important, how Abraham Lincoln ensured its persistence as a living force in American society. Finally, she shows how by the very act of venerating the Declaration as we do-by holding it as sacrosanct, akin to holy writ-we may actually be betraying its purpose and its power.
Genres: