An Amish Harvest: Four Novellas
Unabridged Audiobook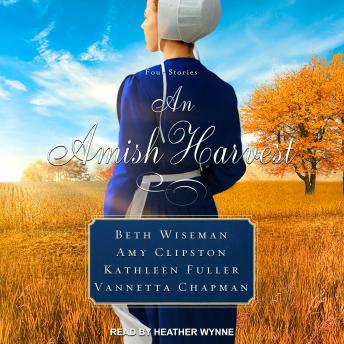 Duration:
9 hours 4 minutes
Summary:
Under the Harvest Moon by Beth Wiseman: When Naomi Dienner is suddenly widowed, she never expects to find love again . . . until she meets Brock Mulligan, an English family friend hired at harvest time. Will God open Naomi's heart-and give Brock his own second chance at love?

Love and Buggy Rides by Amy Clipston: Janie Lantz is a cashier at Lancaster Souvenirs and Buggy Rides, where Jonathan Stoltfuz is a buggy driver. A frightening accident brings Janie and Jonathan together in a blossoming friendship, yet daunting obstacles stand between them and something deeper.

Mischief in the Autumn Air by Vannetta Chapman: When items start going above market value at his auction house, Eli Wittmer is first thrilled, and then puzzled. But when the pieces are linked to an elderly couple in their district, Eli and his new bookkeeper, Martha Beiler track down a trail of clues.

A Quiet Love by Kathleen Fuller: Dinah Hochstetler, quiet and bookish, longs for marriage but hides in her shyness. Amos Mullett, a simple farmer, knows he's different but aches for a loving wife. As Dinah and Amos navigate a budding romance, will the power of love-and the blessing of God-be enough to overcome their doubters?
Genres: