Ancient Underground Cities and Tunnels
Unabridged Audiobook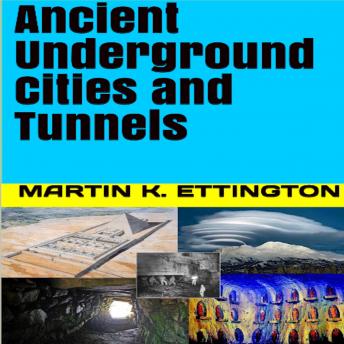 Duration:
2 hours 34 minutes
Summary:
My previous books on ancient civilizations, megaliths, strange objects out of time, Atlantis, and Giants have led me to this last book on underground structures.
This book is about ancient tunnels and underground cities. From the previous research I've done on related topics I do strongly believe that these findings are related to ancient civilizations which we know existed from ruins on and under the Earth.
Some of these findings are stories which need more evidence to prove they are real than other records. This is why I've divided this book up into two parts. In part one are the ruins of underground tunnels and cities we know to exist. The second part has to do with stories and legends of underground tunnels and cities which we can't prove are real or not. They might be real or might just be fanciful stories.
In any event I hope you enjoy these explorations and see how they are tied to other megalithic ruins, Giants, and finds from millions of years ago.
I should also state that there are lots of claims of extraterrestrial underground tunnels, and cities, and ones our governments want to keep secret. My focus is on ancient subterranean structures and tunnels which may have been used by previous civilizations on Earth.
Genres: