Angels' Cut - the Slice
Unabridged Audiobook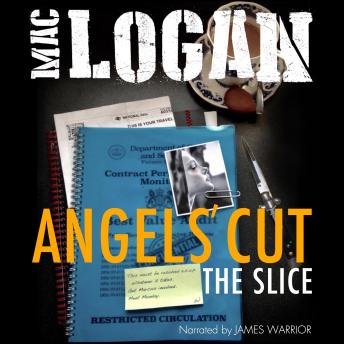 Duration:
10 hours 51 minutes
Summary:
ANGELS' CUT BY MAC LOGAN, NARRATED BY JAMES WARRIOR

EILIDH KNOWS

Eilidh Duncan's explosive dossier exposes massive corruption and criminality brewing in the dark heart of the UK Establishment … sound familiar?

As she follows leads, her investigation exposes layer after layer of fraud in government procurement and contracting linked to international banking and criminal networks. Her diligence threatens a comfy 'chumocracy' in the corridors of power. As her story nears publication, pin-striped backsides are fearful and turn to organized crime for support. Before long, Eilidh is taken with callous efficiency and plunged into an insane world of violence and murder.

Making things worse, separate factions of the corrupt partnership operate to their own agendas and act independently. Wires cross. The killing starts.

SAM DOESN'T KNOW

Eilidh's big brother Sam Duncan comes to London for a catchup. A brutal reception awaits him. SURPRISE! He escapes danger, and as a result, a hit team goes after his family.

Inevitably, officials, politicians, the Establishment, business people, bankers, law enforcement and organized crime conspire to eliminate risk. Naturally enough, as the stakes rise, pressure builds. Before long poor communication, too many bosses and fear leads to lethal, knee-jerking violence. Not all bystanders are innocent.

MAC LOGAN'S ANGELS' SHARE SERIES

Did you know that during the maturation of Scotch whisky, about 2% is lost through evaporation? This becomes 'The Angels' Share', and UK customs waive duty. The Angels' Cut is a dark development of this idea where money evaporates into corrupt pockets.

The Angels' Share series are brutal thrillers about greed, crime, cover-up and confrontation. Readers follow the investigation of a secretive, greedy conspiracy, willing to kill as it fights to avoid exposure.

For a free copy of Relentless, go to https://maclogan.online/. Dark Art is in audio production and will be released soon.
Genres: