Animal Kind: Lessons on Love, Fear and Friendship from the Wild
Unabridged Audiobook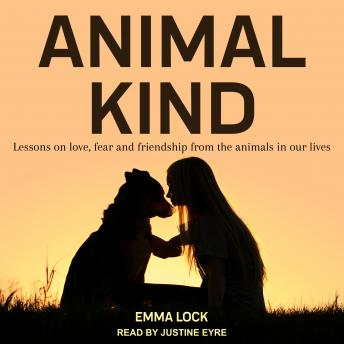 Duration:
2 hours 59 minutes
Summary:
The Beauty of Animal Companionship

For hundreds of years, humans and animals have had special bonds with each other. We've lived side-by-side through thick and thin-these relationships are not just about raising pets and farm animals. Our animal companions offer inspiration, friendship, health, and real-life opportunities for recovery that we can't achieve alone.

True stories of animal therapy: In Animal Kind, Emma Lock of YouTube fame shares stories of the incredible ways that animals keep us healthy and happy, physically and mentally. You'll be inspired by the tales of remarkable recovery, from vision-impaired individuals who have gained independence with the help of seeing-eye dogs, to the woman who found new life as an equestrian champion after an arm amputation.

Friendship in surprising places: The stories in Animal Kind feature an array of relationships that may surprise you. Even wild animals like snakes and racoons have been known to offer life-changing companionship. With each story, you'll learn fun facts about the featured species and hear from the people who love them. You'll also hear the never-before-told story of how animals changed Emma's life for good.
Genres: