Anthropology For Dummies: 2nd Edition
Unabridged Audiobook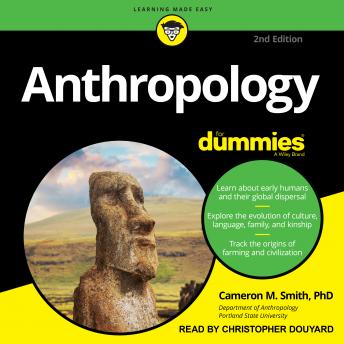 Duration:
14 hours 44 minutes
Summary:
Anthropology is the organized study of what makes humans human. It takes an objective step back to ask questions like: Given our common characteristics, why aren't all of us exactly the same? And how can knowing the reasons behind our differences-as well as our similarities-teach us useful lessons for the future? The updated edition of Anthropology For Dummies gives you a panoramic view of the fascinating fieldwork and theory that seeks to answer these questions-and helps you view the human world through impartial, anthropological eyes.

Anthropology For Dummies explores the four main subdivisions of the discipline, from the adventurous Indiana Jones territory of archaeology and the hands-on biological insights provided by our physical nature to the studious book-cracking brainwork of cultural and linguistic investigation.

- Explore the history of anthropology and apply its methods

- Get a deep, scientific take on contemporary debates such as identity

- Excavate the human past through new fossil discoveries

- Peer into humanity's future in space

This is the perfect introduction to humanity's past and present-and a clue to what we need to build a better future.
Genres: