Architects of Intelligence: The truth about AI from the people building it
Unabridged Audiobook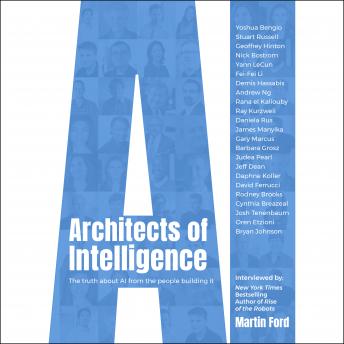 Duration:
20 hours 10 minutes
Summary:
How will AI evolve and what major innovations are on the horizon? What will its impact be on the job market, economy, and society? What is the path toward human-level machine intelligence? What should we be concerned about as artificial intelligence advances?

Architects of Intelligence contains a series of in-depth, one-to-one interviews where New York Times bestselling author Martin Ford uncovers the truth behind these questions from some of the brightest minds in the Artificial Intelligence community.

Meet the minds behind the AI superpowers as they discuss the science, business, and ethics of modern artificial intelligence. Hear James Manyika's thoughts on AI analytics, Geoffrey Hinton's breakthroughs in AI programming and development, and Rana el Kaliouby's insights into AI marketing. This AI book collects the opinions of the luminaries of the AI business, such as Stuart Russell (coauthor of the leading AI textbook), Rodney Brooks (a leader in AI robotics), Demis Hassabis (chess prodigy and mind behind AlphaGo), and Yoshua Bengio (leader in deep learning) to complete your AI education and give you an AI advantage in 2019 and the future.
Genres: