The Arrival
Unabridged Audiobook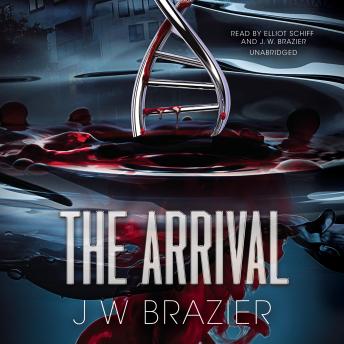 Duration:
15 hours 34 minutes
Summary:
Beneath a cloak of darkness and mystery, it has arrived.

Palestine, 1948. With the winds of war fast approaching, an unscrupulous archaeologist finally finds the remains of the man he's been searching for, unwittingly releasing an ancient evil on the world.

White River, Arkansas, 1980. In a secret lab, top-level medical scientists work together to harness the power of a revolutionary new DNA manipulation technique. But when the project finally comes to fruition with the birth of a specially "designed" baby, it just as abruptly comes to a bloody halt. The facilities and nearly every member of the team are wiped out, silenced forever … almost.

White River, Arkansas, 2019. The small town awakens one morning to find itself ground zero of a joint UN–US terrorist training exercise. Residents face martial law, a cashless economy, and a host of ruthless leaders seemingly bent on making the maneuvers more than just a military operation. Outraged citizens begin to rise up and fight back, but it soon becomes clear that something evil has arrived in White River—a darkness unleashed on an unsuspecting world.
Genres: