ASMR for Your Commute: Quiet Your Mind in a Busy World
Unabridged Audiobook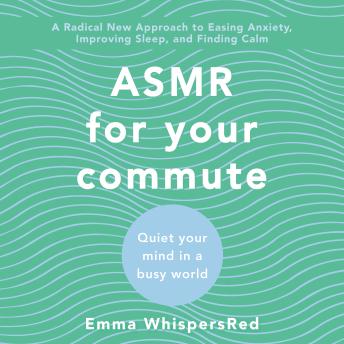 Duration:
0 hours 46 minutes
Summary:
Let the power of sound help you to relax and find peace and calm while on your way to work or traveling with this groundbreaking audio experience that helps you tune out the noise and reset with ASMR.

ASMR, or Autonomous Sensory Meridian Response, is one of the biggest emerging trends in wellness and mindfulness. Proven to ease stress and anxiety, improve sleep, and enhance social connection, ASMR is a radical new form of sound healing with proven benefits similar to meditation.

ASMR for Your Commute from beloved ASMRtist Emma WhispersRed is the perfect companion for ASMR fans on their ride to and from work. Using bespoke sounds and meditative techniques, Emma helps you achieve and retain calm from your front door to office and back. Whether you've already begun practicing this wellness technique or are curious to try, ASMR for Your Commute is ideal for everyone searching for deep, joyful, and meditative ways to unwind.

Get the complete audio series—ASMR for Your Commute, ASMR for Your Lunch Break, and ASMR for Bed Time—and the book, Unwind Your Mind.
Genres: