Atkins Diabetes Revolution: The Groundbreaking Approach to Preventin
Abridged Audiobook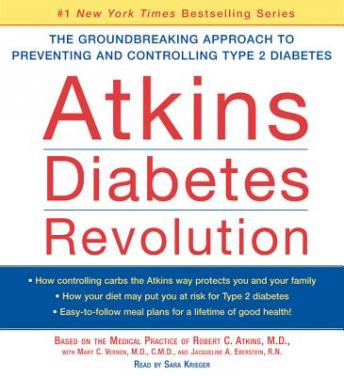 Duration:
4 hours 51 minutes
Summary:
More than a program for living with diabetes, here is a groundbreaking approach to preventing, treating, and even reversing an American epidemic, based on the science of the doctor who invented the low-carb lifestyle and wrote the #1 New York Times bestseller Dr. Atkins' New Diet Revolution featuring the Atkins Nutritional Approach™— a celebrity-favorite diet perfect for losing weight before your wedding or to bounce back into shape post-baby, or if you just want to look and feel your best.

The statistics are staggering. Thirteen million Americans have been diagnosed with Type 2 diabetes; another 5.2 million don't know that they have it. During the past thirty years the diabetes rate has tripled, and each year about 200,000 people die from complications of the disease. The Centers for Disease Control project that one out of every three children born in the year 2000 will develop the disease. But Type 2 diabetes is largely preventable. Find out how you can avoid becoming a statistic.

As a respected physician and pioneer in the field of complementary medicine, Dr. Robert C. Atkins recognized early on that diabetes and obesity are twin epidemics, and that the way to reverse both is to permanently change the way people eat. Yet much of the mainstream medical establishment continues to advocate the treatment of diabetes with insulin and other drugs, while recommending a diet high in carbohydrates including sugar, which raises your blood sugar. What you'll learn from reading Atkins Diabetes Revolution is that rather than correcting your metabolism, such a diet can actually increase your risk of developing diabetes—and heart disease.

The Atkins Blood Sugar Control Program (ABSCP) helps you identify the metabolic signposts that indicate trouble long before the onset of Type 2 diabetes so you can stop it in its tracks. If you already have the disease, the ABSCP offers you and your physician a strategy for weight management and blood-sugar control, while minimizing your exposure to drugs.

Atkins Diabetes Revolution presents a comprehensive lifestyle program, including diet, exercise, and nutrient supplementation. The book also contains meal plans, recipes, a fitness routine, and case studies. This revolutionary book, a fitting tribute to Dr. Atkins, tackles one of the greatest health challenges you and your family may ever face.
Genres:
1 of 1 people found this review helpful.