Atkinson's People: A BBC Radio Comedy starring Rowan Atkinson
Unabridged Audiobook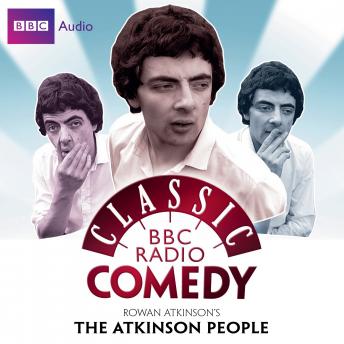 Duration:
1 hours 56 minutes
Summary:
Rowan Atkinson stars as many different characters in four episodes from the classic comedy series, written by Rowan Atkinson and Richard Curtis ('Four Weddings and a Funeral', 'Notting Hill'), which investigates the lives of four great - but imaginary - men.

We hear about the life and times of master orator, Sir Benjamin Fletcher: writer, statesman, Nobel Prize winner, painter, farmer, diplomat, wit, etc, etc... There's France's greatest thinker and philosopher George Dupont; and actor, raconteur and general bore, Sir Corin Basin. Barry Good - the 'Pope of pop' - also looks back at his life (before he came a rich tax exile).

Produced by Griff Rhys Jones, 'Atkinson's People' was one of the first radio series ever to star Rowan Atkinson and was a forerunner to the massively successful 'Blackadder' TV series.

Rowan Atkinson stars in the spoof radio series which looked at the personalities behind the headlines - co-written by Richard Curtis.
Genres: