The Autobiography of Santa Claus
Unabridged Audiobook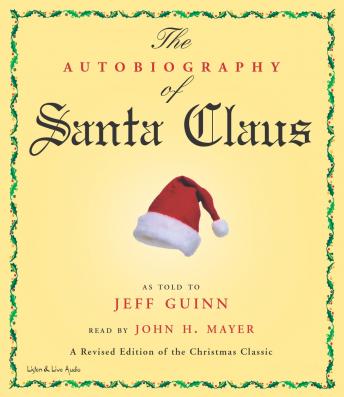 Duration:
9 hours 10 minutes
Summary:
This enchanting holiday treasure combines historical fact with glorious legend as Saint Nicholas himself reveals the definitive story of Santa Claus. For anyone who has ever wondered...you're right to believe in him! In The Autobiography of Santa Claus, Santa shares his story with readers for the first time.

Nicholas (his real name) was born in the Middle Eastern Country of Lycia to wealthy parents who died while he was young. The kind people of Lycia taught him the lessons of goodness and generosity, which he began to practice as a child by sharing his wealth with those in need. As a young man, Nicholas realized that his generosity had bestowed upon him special abilities to distribute his presents to deserving children everywhere. For example, he had stopped aging and could travel very, very rapidly.

And so it was that Santa broadened his gift-giving and spread his message to many others, who shared his belief in the goodness of giving.
Genres: