Bad Boy: An Inspector Banks Novel
Unabridged Audiobook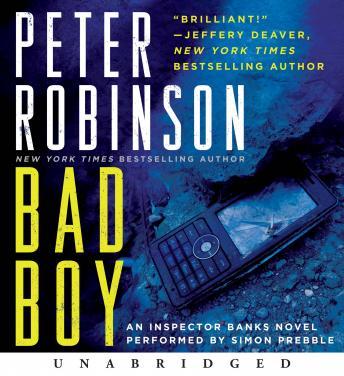 Duration:
12 hours 11 minutes
Summary:
"Brilliant! With Bad Boy, author Robinson once again achieves the high bar he's set in all his previous Inspector Banks books…This one will stay with you for a long time."
—Jeffery Deaver, New York Times bestselling author of Roadside Crosses

Detective Chief Inspector Alan Banks faces his most challenging, personal, and terrifying case yet when his own daughter crosses paths with a psychopath, in Peter Robinson's superb Bad Boy. Dennis Lehane, author of Mystic River and Shutter Island, calls the novels of Peter Robinson, "chilling, evocative, deeply nuanced works of art." Stephen King calls them, "the best series now on the market." If you have not yet discovered this New York Times bestselling crime fiction master and his exceptional detective, now is definitely the time.
Genres: