Banewreaker: Volume I of The Sundering
Unabridged Audiobook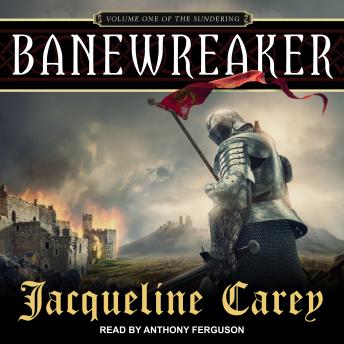 Duration:
19 hours 33 minutes
Summary:
Once, the Seven Shapers dwelled in accord. First-born among them was Haomane, Lord-of-Thought and with his brother and sister gods, the Seven drew upon of the power of the Souma, claimed a race of beings for their own and began Shaping the world to their will.

But Haomane saw the ways of this new world and was displeased. For in his younger brother Satoris, once called the Sower, Haomane thought too prideful and in his gift, the quickening of the flesh too freely to the races . . . and to that of Man in particular. Haomane asked Satoris to withdraw his Gift from Men but he refused. And so began the Shapers' War.

Eons have passed. The war that ensued Sundered the very world. Haomane and his siblings lay to one end of a vast ocean unable to touch their creations, Satoris and the races of the world on the other. Satoris has been broken and left adrift among the peoples of the world and is reviled, with most of the races believing that it was he alone who caused the rift and depriving them of the balm of the Seven. He sits in Darkhaven, controlling his own dominion-seeking not victory but neither vengeance.
Genres: