Become Your Own Matchmaker: Eight Easy Steps for Attracting Your Perfect Mate
Abridged Audiobook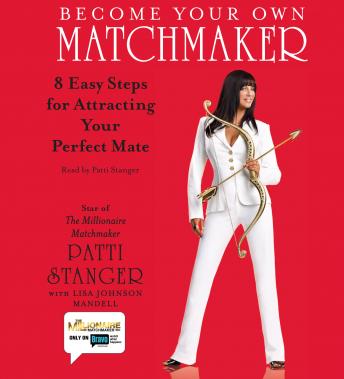 Duration:
6 hours 0 minutes
Summary:
The star of the hit show The Millionaire Matchmaker Patti Stanger offers a no-holds-barred, take-no-prisoners guide to finding Mr. Right—in just one year!

Patti Stanger created an overnight Bravo sensation as the star of her own reality series The Millionaire Matchmaker. As a matchmaker, she has been in the enviable position of having men all over the country open up and reveal what made them want to settle down—and what sent them running.

To every single woman sitting home alone wondering, "Where are all the good men, and why isn't a gorgeous one standing shirtless in my kitchen mixing me up a pomegranate mojito?" she says, "I hate to tell you this girlfriend, but it's your own fault." But don't worry, with her straightforward attitude, Patti doles out her best tried-and-true advice to help women of all ages get out of their own way and get hitched.

Using her infectious confidence and bravado, Patti promises that if you follow her advice and commit to her program, you'll have found Mr. Perfect in less than a year.
Genres:
1 of 1 people found this review helpful.